Vintage Lingerie and Fashion Magazine
Galliano, Dior and Lingerie as Outerwear
0 comments / Posted on by Katie Thomas
Galliano, Dior and Girdles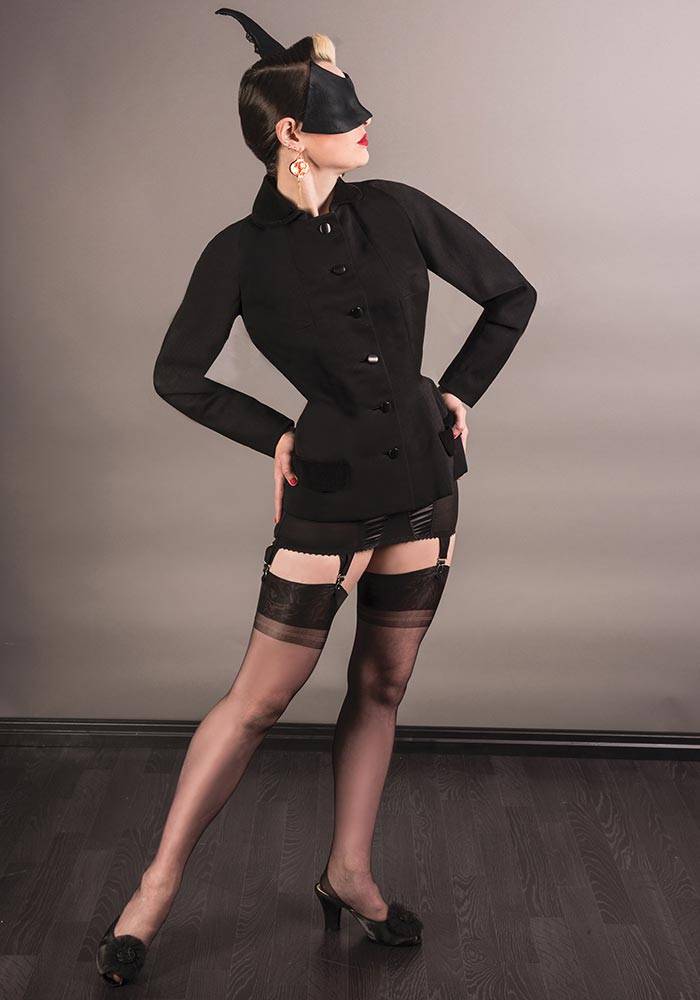 Taking inspiration from Galliano for Dior's Fall 2009 Couture Collection
One of most memorable collections, for me, that John Galliano designed for Dior was his Fall 2009 Couture collection that incorporated 1950s style underpinnings, nylon seamed stockings, gorgeous tailored jackets and flamboyant millinery.
Galliano was inspired by behind the scenes pictures taken in the 1950s of Christian Dior's models being dressed for shows.
His 2009 collection was show in the original House of Dior in Avenue Montaigne, where the original shows took place.
What a captivating story!
When I discovered the perfect vintage 1950s tailored jacket in Jasmine Rose Vintage (in my home town of Plymouth in the SW of England) I knew I wanted to do a shoot inspired by the Dior Fall 2009 Couture collection.
Inspiration was in the air as it turns out milliner bink (of Pearls and Swine) had just created a hat she couldn't wait to shoot: inspired by 1950s fetish magazine Bizarre.
Our simple studio shots give a little nod to Dior with the use of a dove grey background, while model Missy Malone strikes some classic 1950s angular model poses.
---
With all black satin and sheer black nylons we couldn't resist adding a fetish touch.
---
---
Missy Malone wears our Padded Bullet Bra which is specifically designed for smaller busts: it's no surprise that it's a favourite of both supermodels and drag queens alike! Lined with 5mm foam it keeps the super pointy bullet bra shape while the circle stitching really stands out.
We've teamed our Padded Bullet Bra with our Glamour Girdle: Galliano used a lot of vintage inspired girdles in his 2009 show. It gently hugs your curves and makes a great foundation under tight pencil skirts, or dare you wear it alone?
Finally, we couldn't team this ensemble with any other than genuine Fully Fashioned Stockings.
We selected Point Heel Fully Fashioned Stockings as these were the heel type of choice for Parisian couture houses in the 1950s. In fact, they are sometimes referred to as 'French Heels'.
Credits:
Hat: Bink at Pearls and Swine
Jacket: Jasmine Rose Vintage
Earrings: Rosita Bonita
Model: Missy Malone Missy's vintage boutique: Malone's Vintage
See the entire Dior Fall 2009 Couture collection on Vogue's Website.
---
---
Read More
Sweater Girls! Posted at 11:00 • 25 July • Wiggy Bamforth• Bullet Bras We style vintage bullet bra...
Read More
0 comments