Vintage Lingerie and Fashion Magazine
Safari Style: 1950s Adventurous Attire!
0 comments / Posted on by Wiggy Bamforth
Inspired by 1950s adventure films, our Fifties Safari styling sequence teams reproduction vintage shorts from The House of Foxy with our beautiful lingerie!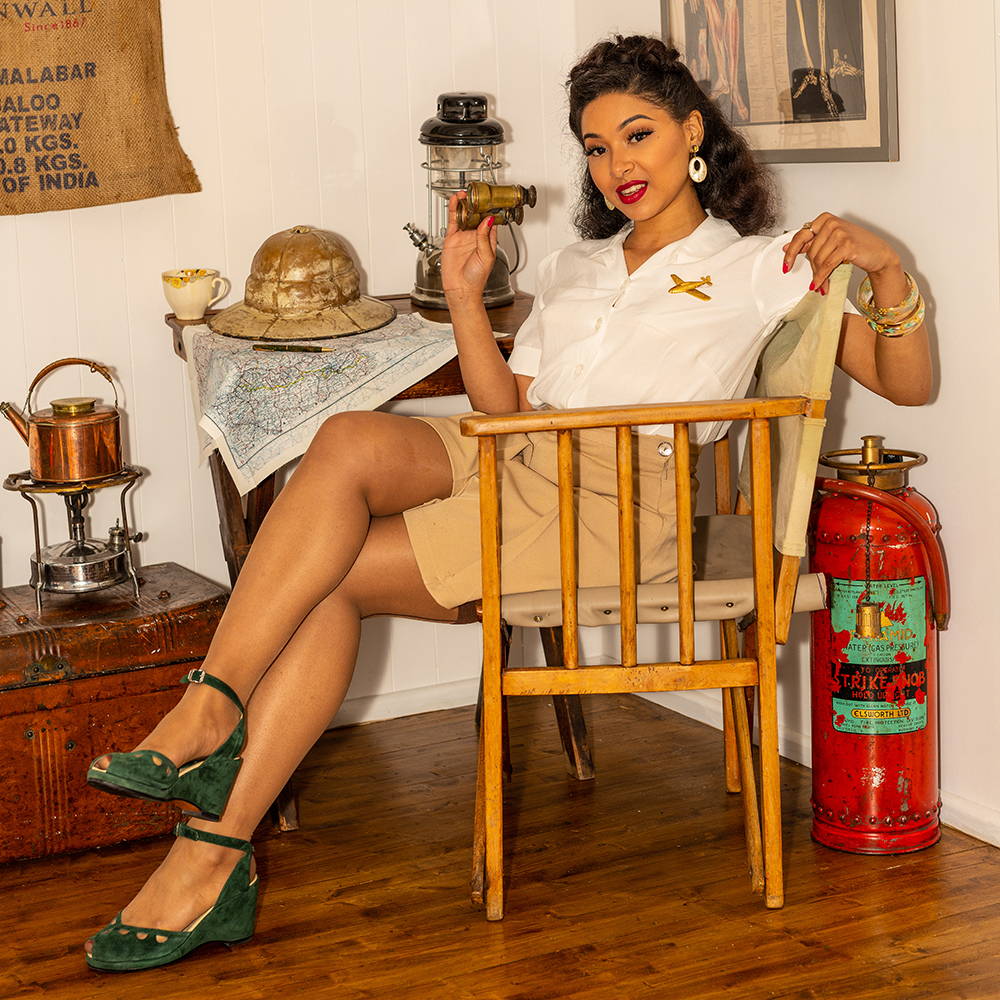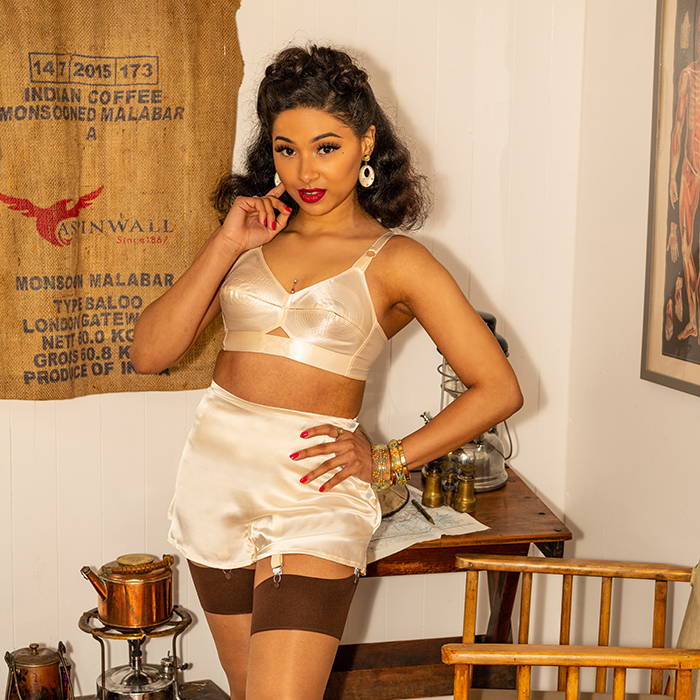 When the weather gets warmer, layers of petticoats and skirts can make vintage dressing feel a little too hot. Luckily we've teamed up with reproduction brand The House of Foxy to give you a little safari-based inspiration for when the mercury rises.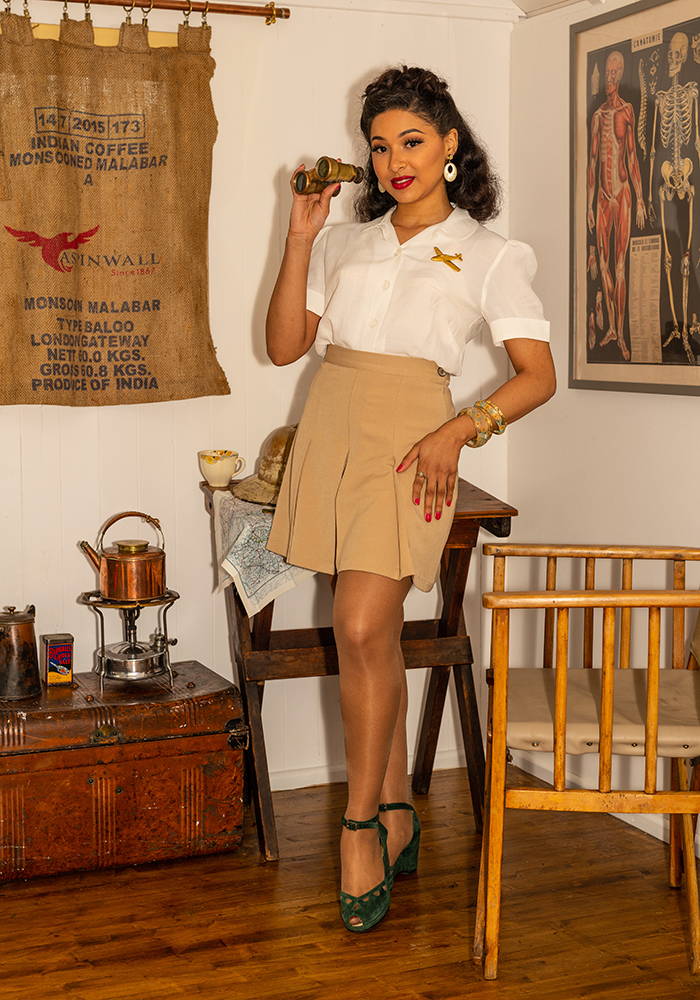 A cool white blouse is the best start to any outfit in the summer. This Prim Blouse from The House of Foxy ticks all the boxes - short sleeved with a fitted waist and round collar, it's guaranteed to look neat and polished when you're out and about.
Although our entire ensemble is Fifties in look, these are in fact The House of Foxy's 1930s Pleated Shorts, which are inspired by a real Thirties pattern! Taking inspiration from a pair of ladies' tennis shorts, you might recognise them as being quite similar to a pair of old-fashioned girl's gym shorts. We love the high waisted design, and well as the beautiful tan colour which goes so well with the shirt.
---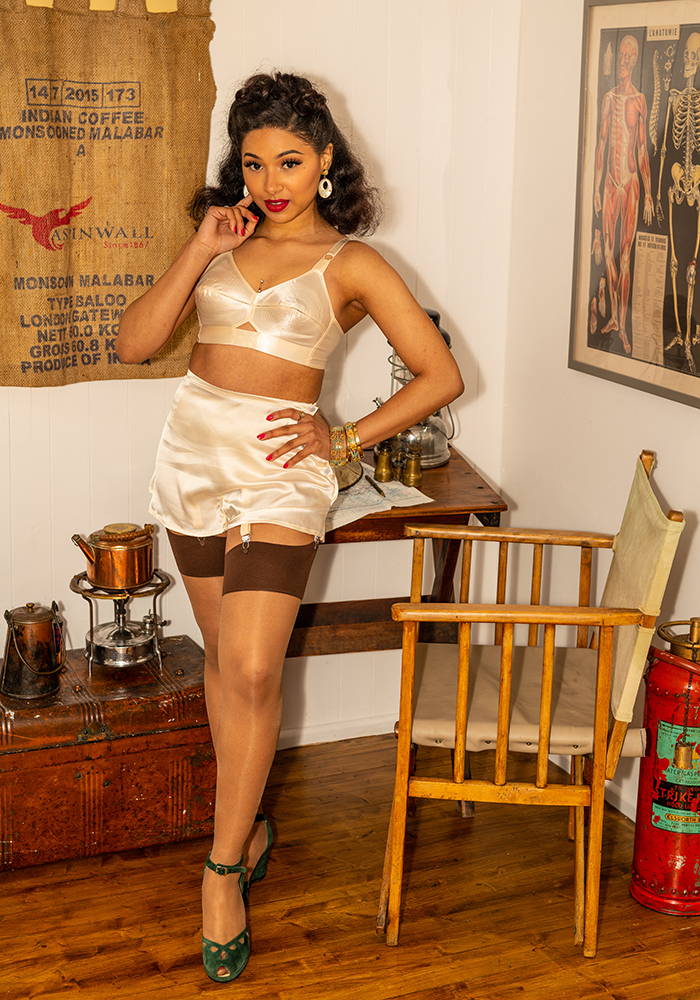 Our accessories for this outfit come in the form of these gorgeous shoes from Rocket Originals and jewellery by the wonderful Splendette. Both companies make beautiful reproduction pieces inspired by true vintage designs, and are our first stops when we're stocking up on wardrobe staples!
Underneath this gorgeous outfit we're continuing the light and floaty theme. Eva wears our Harlow Bullet Bra, CC09 French Knickersand Suspender Belt and our Contrast Coffee/Nutmeg Glamour Seamed Stockings. A well fitting Bullet Bra gives the best shape for Forties and Fifties outfits, and you'll instantly see the difference when you try one on! Floaty French Knickers are a good choice in the heat. In addition, wearing French Knickers over your suspenders acts as a slip for pieces like these shorts where you wouldn't be able to wear a normal skirt slip.
We're particularly pleased with our Nutmeg Glamour Stocking ranges, which are specifically designed for those with olive to mid-brown skin tones, and are available in a range of seam colours alongside our Champagne designs.
---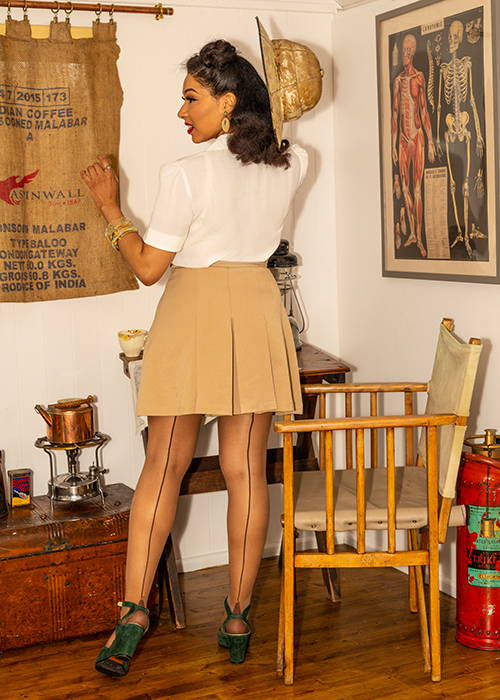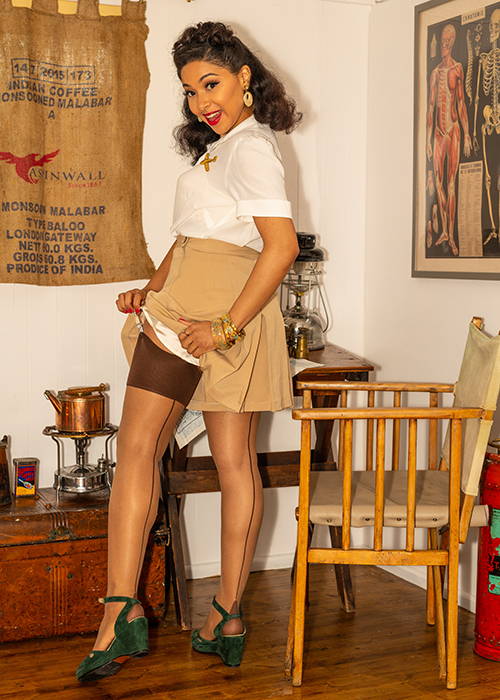 ---
Read More
Lookbook: Vintage Revival Festival Style Heading to a vintage revival event and wondering what to we...
Read More
0 comments