I first discovered seamed stockings in my teens in the late 1980s when there was revival of 1950s style fashion. It wasn't until the mid 1990s that I found out about Fully Fashioned Stockings. While working at the fetish boutique Skin Two in London I heard others talk about the fabled 'Aristoc Harmony Points' which were the last Fully Fashioned Stockings made by a mainstream hosiery comapny in the UK, while in the store we used to import 'Sweet Caroline' nylons, followed by Eleganti.
When Skin Two decided to focus on their own label, and discontinue stockings I was stuck. How could I afford my beloved Fully Fashioned Stockings? I had a good relationship with the factory so I thought why not set up a website and maybe if I stock the nylons, I'll actually make enough money to pay for my own stocking habit?
I'm the first to admit that it wasn't the most ambitious business plan, but it certainly worked!
---
Our Glamour Seamed Stockings
Our Glamour Point Heel Seamed Stockings are a design exclusive to What Katie Did and are made in Italy (like all our non Fully Fashioned nylons) which is the home of quality hosiery manufacturing.
They're made from a sheer 15 denier stretch nylon with elastane, which means that just 2 sizes cover sizes 6-14, 5ft to 5ft 11 in an ever expanding range of colours. A curve size is perfect for those of you with curvier thighs and available in our best selling colours.
We've just launched a Cuban Heel version in our neutral colours. Cuban Heels are my favourite and after years of discussion with our factory I'm thrilled to add these to our Glamour collection
---
Glamour Curve Seamed Stockings
Our Curve Seamed Stockings are made in the same factory as our other Glamour Styles. There are two ways of making larger stockings, one is to use the same machine but to make the stockings longer and knit them looser. We tried this and although they were 'fine' , they weren't fanastic.
In the end we had to use a different machine which actually knits a larger leg. They are knitted very slightly looser than our other Glamour Seams to give them even more stretch, which does make them slightly more fragile, but we felt the fit was the most important thing. Just be a little careful putting them on!
A lot of cost of stockings is setting up and programming the machinery which leads to high minimum runs. We were hoping to use the original Glamour machine and just tag the Curve sizes as an additional variant when we made a certain colour. Unfortunately this isn't now possible so we are dealing with very high minimums, which means that although we do plan to add more colours (and refine the welts to make them even wider) it will be a very slow process.
Please be patient!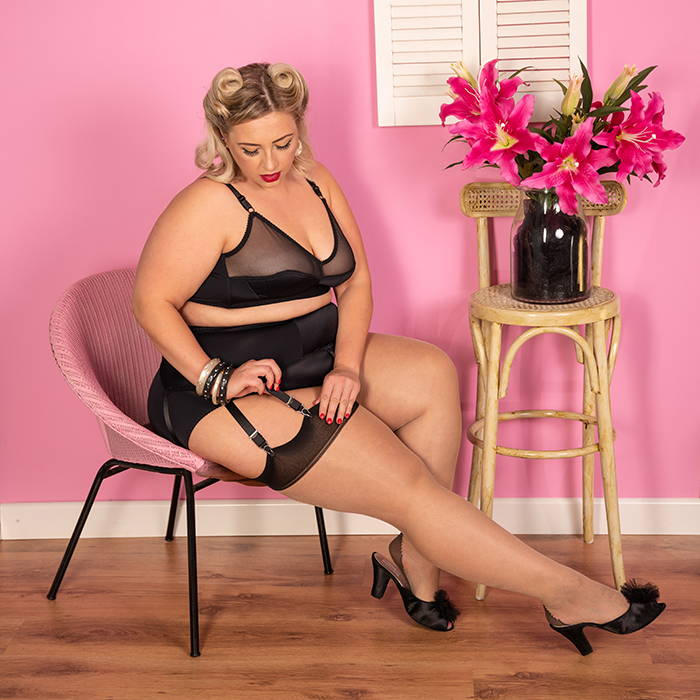 ---
Fully Fashioned Stockings
Our Fully Fashioned Stockings and RHT ranges are made in one of the last four remaining Fully Fashioned Stocking mills in the world, in the heart of England. Both of these ranges are made from the same high quality silky soft non-stretch nylon evocative of the monofilament yarn used in the 1950s.
They're seamed by hand which is extremely labour intensive and explains why Chinese factories have little interest making them a mass market product! If you haven't tried real nylons before you might be rather alarmed at the length of them! Being non stretch they do look very long, but once you put your leg in them it will take up the slack.
---
Fully Fashioned Stocking Sizing
Sizing is very important with non stretch nylons: one size does certainly not fit all. Our Fully Fashioned and Nylons ranges are designed for dress sizes 8-12. If you are smaller than that then you might like to try a size smaller, while if you're a size 14 you might try a size larger. Don't be tempted to go up or down more than one size as you'll either end up with wrinkled ankles, or digging-in welts.
Real nylons are extremely delicate and need to be treated with the utmost care. In the heyday of stocking manufacturing, workers were treated to two manicures a day (on arrival and after lunch) to ensure nails and rough skin didn't snag the delicate stockings. We highly advise the use of hosiery gloves, thin rubber gloves used for hair dying are an easy to find alternative - although slightly less glamorous! Believe it or not, the most dangerous time for nylons is not when you're wearing them, but when you putting them on, removing them, washing them or storage.
---
Yes tights! Not totally period correct, but if we were being totally 1950s then we'd all be surviving on 6 pairs of stockings per year (which is what the average American woman purchased at the beginning of the decade, in the UK it would probably be lower!)
Seamed tights are perfect for wearing under skin tight wiggle dresses so fans of Bengaline fabrics rejoice! They're also great if it's blustery day and you don't want to expose your suspenders to the world.
We introdued Seamed Tights as once a year have a pop up boutique at vintage motor racing event the Goodwood Revival in England and so many visitors arrive early in the morning when it's quite chilly and want tights! Over the last decade our reputation at Goodwood has grown and we have great fun spotting out seams.
There have been some interesting developments over the last couple of years: although traditionally we've always sold 10 pairs of tights to 1 pair of stockings at Goodwood, stocking sales there are now rising.
Unfortunately for tights lovers, as this is/was our big tights event of the year, it makes it tricky to introduce new colour combinations - like the green pictured here - due to high minimums.
Sizing Note: our Seamed Tights are a little smaller in size than their Stocking sisters. While I always wear a S/M in our Glamour Stockings I prefer a M/L in the tights. If in doubt please size up.
---
Keeping Your Seams Straight
My tip for seams, is simply don't worry about them. As long as you get your seams straight when you put your nylons, you're generally set up for the day.
To put your nylons on, gather the length of the stocking and carefully put your toe in the end, pull the stocking over your foot and ensure the ankle is correctly in place. Then, standing up, gradually pull the stocking up checking that the seam is straight.
It's actually harder to put Retro Seams on straight as there is less of a guide for your finger to follow. Don't try and adjust the seam on the leg, but roll the nylon down as far as needed and try again.
---
After 25 years of stocking wearing I have my care routine down to a fine art.
Store worn nylons in an old pillowcase so they don't get snagged in your laundry basket. Once a week swish them around in warm water and a little detergent (or bubble bath version of your favourite perfume if you're super-luxe) and hang up to dry by the toes.
Don't be tempted to drape them over something as nearly every household object, be it a chair or a radiator, will have something that will cause a snag (I've been there plenty of times). Why not try one of those plastic circular multi-peg contraptions you can find in any good 99c store, or use a clip coat hanger?
The good news is that nylons dry very quickly over night so you won't be cluttering up your bathroom for long. Once dry, store your nylons in the cellophane bag they came in, invest in our satin Stocking Storage Bag or store in a good old jelly jar!
---
Stockings used to be sized as follows:
8.5 = foot size 5
9 = foot size 6
9.5 = foot size 7
10 = foot size 8
10.5 = foot size 9
11 = foot size 10
Unfortunately, nothing in life is that simple! This doesn't take into account the width of the leg or the stretch of the stocking (in addition, one modern fully fashioned stocking company still use the old size numbers but they do not equate to the real old sizes!)
Where companies divide the above into 3 sizes they should come into the following brackets:
Small = 8.5 to 9.5
Medium = 9 to 10
Large = 9.5 to 10.5