Welcome to What Katie Did
Hi, I'm Katie from What Katie Did and I'd like to welcome you to my company. I've always been interested in 1950s fashion and especially the underpinnings: you can see my corset story in the video here. While it's easy to find true vintage even today, finding wearable vintage lingerie is another story. I started to collect lingerie and nylons from the 1950s but I didn't wear as much as I liked as I didn't want to damage it.
I started What Katie Did in 1999, with just $150. At this time is was very difficult to find Seamed Stockings either in shops or online. I built a very basic website and opened a stocking stall in London's Camden market.
Today we have two boutiques, in Los Angeles and London, over 100 stockists worldwide, plus of course, this website.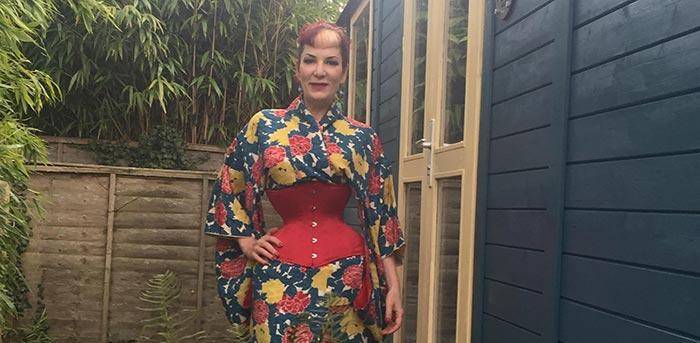 ---
Our most popular items, chosen by you, can be seen by clicking the link below.
It's extremely rare that our Glamour Seamed Stockings in Champagne with a contrasting black seam, don't make the top 10.
---
We release new ranges throughout the year so there's always something exciting around the corner.
One of the things I personally find frustrating about the traditional fashion industry is designing something and then having to wait up to 2 years before showing you! Although development time is frustrating slow at times, we do like to bring new ranges to you as quickly as possible.
---
It's difficult to tell how big a company is online, and I know What Katie Did appears bigger than it actually is.
In total there are only 14 of us, with 3 in our Burbank boutique, 2 in London in our London boutique and the remainder at our HQ. We don't use a call centre or distribution centre, everything is done in house.
This means that if you do have any questions you'll be talking to someone who really knows just about everything that's going on! If you use Facebook the easiest way to chat is to use the icon on the bottom right of your screen. You can chat live during office hours, and we'll get back to you as soon as we can at other times.
---
With the exception of the beautiful Miss Deadly Red, none of our models are, in fact, full time models.
We prefer to work with people who have an interest in the vintage world and who actually wear our lingerie in real life.
Our models range in age from early 20s to late 40s, dress size 4-18, and cup size A-FF.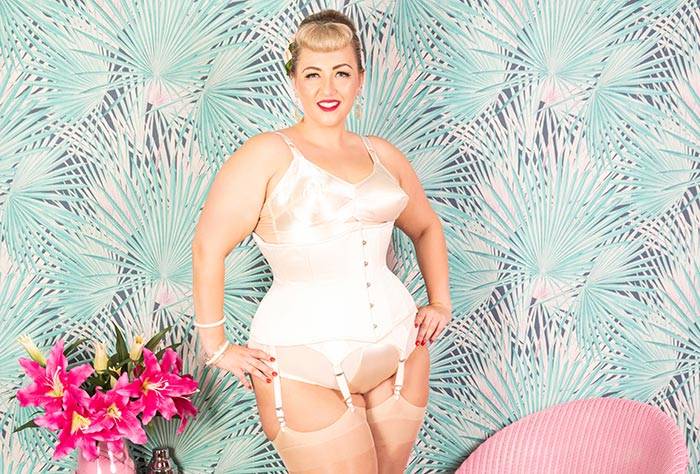 ---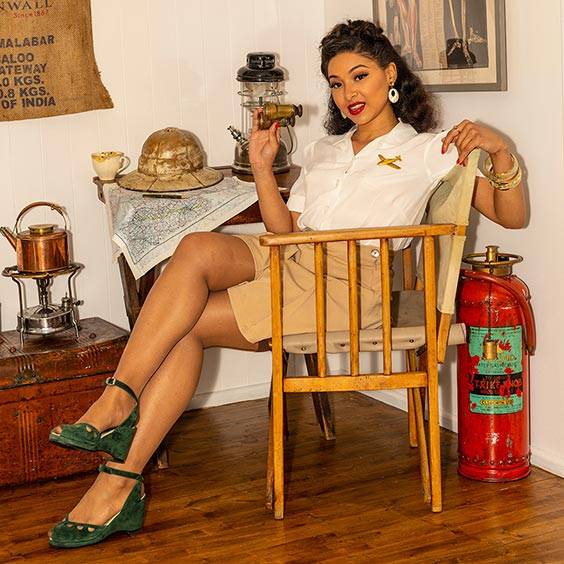 Online Magazine
Find lots of styling information and tips in our online magazine
Facebook Social Group
Come and have a chat with us and other WKD fans by joining our social group (note: you do need to agree to our terms and conditions to join).
Shopping With Us
Scroll to the bottom of this page for our information pages. Whether you wan to find out how long delivery takes (answer: not long!), how to measure youself for your first corset or how to keep the seams on your stockings straight, you can find the answers in the bottom menu.